---
La Soledad (2016)
---
Combining sharp social critique with the offbeat poetry of magical realism, the award-winning drama La Soledad offers a vivid and engaging account of the Venezuelan crisis told through the real-life struggle of a young father trying to save his family from the demolition of their home.
La Soledad is Director Jorge Thielen Armand's debut feature. It sees him return to the location of the film's title, a house in Venezuela once inhabited by his great-grandparents and now threatened with demolition. The house is dilapidated - antique portraits hang from crumbling walls and garden weeds force their way through the cracks - yet in the midst of Venezuela's economic and political crisis it has become a sanctuary for those who live there.
La Soledad offers an engaging portrait of the effects of economic catastrophe in Venezuela on individuals' lives, and its lyrical evocation of a decaying world opens up new possibilities for documentary cinema.
---
TFIP co-founders Danielle Turkov and Dwayne Menezes acted as associate producers on La Soledad and TFIP partnered with the Human Security Centre think-tank in London to promote the film through screening and discussion events, raising awareness about access to medicines and development in Latin America.
---
UK & EU Impact
---
During 2017, TFIP & HSF organised a range of special screenings and panel discussions in cities across the UK. Panellists included Miguel Kuczynski (Lecturer, Centre of Development Studies and Centre of Latin American Studies, University of Cambridge), Dr Rebecca Jarman (Lecturer at the University of Leeds and Founder of the Venezuela Research Network), Dr Lizabeth Navas-Aleman (Honorary Associate at the Institute of Development Studies, University of Sussex) and Nick Cohen (Political Commentator for The Guardian, Observer and Spectator).
In July 2018, TFIP co-hosted a lively screening and discussion event at the Brussels Press Club (pictured) at which TFIP co-founder Danielle Turkov gave a keynote speech and panellists from the EU institutions explored the EU's political relationship with Venezuela and Latin America.
---
---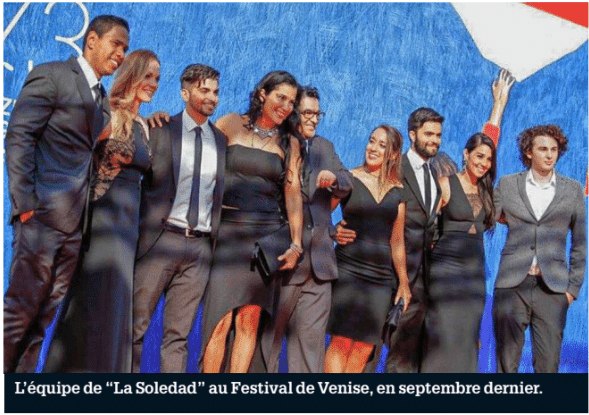 Global Impact
---
With support from TFIP, La Soledad had its world premiere at the Venice Biennale. It has since won over 24 awards and been mentioned in multiple international newspapers, including four-star reviews in The Guardian and Financial Times.